Jennifer Leone, a student in the Doctor of Nursing Practice program at UCSF, is also a certified family nurse practitioner and a Lieutenant Colonel in the U.S. Air Force Reserve. She is currently on active duty as Deputy Chief Nurse attached to a unit at McGuire-Dix-Lakehurst, a joint military base in New Jersey, where over 11,000 refugees from Afghanistan have a temporary home. The base is one of seven U.S. bases to which tens of thousands of Afghans were evacuated from Kabul in late August of last year.
The Graduate Division spoke with Lt Col Leone over Zoom toward the end of 2021.
---
GD: What first inspired you to join the military, and how were military service and nursing connected for you?
JL: I joined 15 years ago. I was already a nurse at the time, and I had always been interested in the military, especially the nursing component of it. It was just this feeling that never went away. Both nursing and the military were callings for me. Serving in the Reserves allowed me to do nursing on the civilian side but also participate in the military, so it's the best of both worlds in a way. I'm also not a Traditional Reservist — I don't do the typical one weekend a month, two weeks a year. I'm actually attached to an Active Duty unit.
When I joined in 2007, we were in the middle of a war. I felt very confident that, with my emergency nursing background, I could provide appropriate care, and I really wanted to contribute. I wanted to help in whatever way that I could. I was drawn to it and immersed myself in learning everything I could about battlefield medicine. I ended up being part of a Critical Care Air Transport Team (CCATT) that provided pre-hospital and ICU-level care on rotary and fixed-wing aircraft.
GD: Have you ever been deployed abroad?
JL: Although I have not been deployed to Afghanistan or Iraq, I have been able to go to surrounding countries in the Middle East and Africa and train military and civilians in trauma, the trauma nursing process, and disaster response. That has been a really great experience.
GD: Did most of the refugees at McGuire come as individuals or as families?
JL: Mostly it's entire families. The majority have children, so we have to handle a lot of pediatric concerns.
(Note: According to the New York Times, about 100 babies have been born at the camp since it first welcomed the refugees in late August. Most news sources say about 40% of the refugees now at McGuire are under the age of 14.)
GD: What's the biggest challenge for the families?
JL: I think the biggest challenge for the families was picking up and leaving emergently. The majority came with just a trash bag of belongings – hardly anything. I can't even imagine what that was like. They're suddenly in a country that is thousands of miles away from their homeland, and they'll never go back. They left everything they knew.
The kids can't fully understand what's going on. They've had to leave behind relatives and beloved pets. It's heartbreaking to watch.
Another one of the main challenges in the beginning was a lack of interpreters. Some of the refugees were interpreters for us, for our military — a lot of them and their families are on special immigration visas, but many speak only Dari or Pashto. We have more interpreters available now, which is great.
GD: Are the refugees in good mental health? Are they also receiving support in that way?
JL: Initially we didn't have the resources, obviously, because it was such an emergent push to get these individuals out of country and relocated. We've gradually gotten more help from volunteer organizations, state run organizations, NGOs — groups that are used to refugee processes and know what people would need. So, they're settling in. I feel like they at least have a sense of relief being here, and I've been told that, as well, through an interpreter. They're very happy and thankful to be here. At the same time, it's humbling to me to think about what the refugees have gone through, the fear that they had daily. They took videos, and they showed us what goes on over there [in Afghanistan], and it's very traumatizing.
(Note: The non-partisan Costs of War Project at Brown University estimates that 243,000 people died as a direct result of the 20-year-long U.S. war in Afghanistan, not including the deaths caused by disease, loss of access to food, water, infrastructure, and other indirect consequences of war.)
GD: The evacuation from Afghanistan happened against the background of the global COVID pandemic. What challenges did that present?
JL: There was no way to get the vaccines in Afghanistan, but when the refugees arrived here, we vaccinated everyone, and not just against COVID. They get vaccinated here according to the immunization schedule that we have for everyone else in this country — varicella, MMR, and so on. It was a huge lift and effort to get this accomplished.
GD: What is the infrastructure like at the camp?
JL: We've basically built a small city here that could eventually house up to 15,000 people. The refugees live either in military barracks or in small prefab studios that were erected inside of large, structurally reinforced tents, which have siding to keep in the heat.  The tents have both heat and air-conditioned capabilities.
The medical facilities are run out of similar temporary structures. They're staffed by civilians now, who are running it like a clinic. So that takes some of the burden off the civilian medical facilities external to the camp. But we're still utilizing the civilian facilities for patients that have severe ailments that we can't care for here. 
We also have our own pharmacy here, a lab, and a dental trailer.
GD: Are the refugees able to prepare their own food there?
JL: We have a central dining facility. When we got the word that they were coming, we knew that people might have dietary restrictions. The military supplies food for the base, and it only took a day or two to get the Mediterranean-style foods that we knew the refugees would prefer to eat.
GD: Does the camp also provide for the refugees' spiritual needs?
JL: Yes. We designated a tent to serve as a religious center in the middle of the camp that anyone can go to. Our chaplain and some of the other services' chaplains were involved in ensuring that the place would be acceptable. Most of the population is Muslim, so there are prayer rugs available in the tent. We also have a Christian church on base.
GD: Do the children get schooling?
JL: They're not going to school yet, but that is in the works. School couldn't be the first priority with everything else going on, but it will happen down the line. For now, we do have a special recreation area for kids. They really like to play soccer, so we procured balls and nets and other things to keep them active.
I think the kids are one of the most rewarding things about this work so far — knowing what they've come from, how far they've traveled, everything that they've gone through. I can't even begin to imagine what they've gone through — or now, how it must feel for them to be here, safe and secure.
GD: Other students at UCSF will no doubt wonder how you are able to handle being in a doctoral program on top of your work at the camp.
JL: Oh, it is challenging! I had to take incompletes in two of my courses, because I couldn't do both things at the same time. At the beginning of the evacuations, my counterpart and I had worked 36 hours straight, because we didn't know if or when the refugees were coming. The mission was very fluid. Then, they were finally here and there was even more to do. Trying to mobilize the resources required for this was a massive undertaking.
I didn't know that I could reach out to anyone other than my program director at UCSF, Dr. Annette Carley, which is what I did when this all went down. I basically told her I couldn't keep up with the program, to put me on pause, whatever needed to happen. Christine Coleman in Student Financial Services got wind of my situation, and she also reached out to me. At the time, I didn't know what I would do, but Christine helped me with more than the financial aid piece and let me know about support services for students in the military. Everyone was very supportive.
GD: Students in the DNP program do a "scholarly project" rather than a dissertation, per se. What is the focus of your scholarly project and why were you drawn to it?
My scholarly project will be on the implementation of trauma informed care for patients presenting in behavioral health crises to the emergency department. I'm building an educational framework for how to approach patients, knowing that the majority of them likely have had adverse traumatic experiences of some kind. I think it may be especially useful in military nursing, and I hope to be able to implement that in my current facility.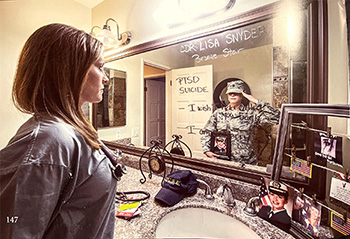 I went to UCSF for my master's degree and graduated in 2009. When I started in 2007, there was a very small cohort in the Critical Care/Trauma Clinical Nurse Specialist program and I met a close friend there, Lisa Snyder, who was a Lieutenant Commander in the Navy at the time. I had just joined, so I was really interested in her experiences. She was a trauma ICU nurse, and we went through the program together, and we kept in touch. I lived in Los Angeles for quite some time, and she ended up coming out there to head the Navy trauma training program at USC in LA County, but unfortunately, we never met up. I noticed that she had posted some strange things on social media, but I didn't engage with her about it—something I regret. Sadly, she ended up taking her own life. Looking back, I wonder if I missed something, if I could have done something. That's part of the reason that I'm passionate about trauma informed care and mental health in the military. I dedicated a picture to Lisa on the Veteran Vision Project. It was my way of healing from her tragic loss, and it also helped to reinforce mental health awareness.
GD: What's the most challenging part of the work in the refugee camp for you, and the most rewarding?
JL: The most challenging thing for me is wanting to do the best for the refugees with very limited resources. In this country, we're really used to having the ability to go to the ER or access the medical resources that we have here. The refugees didn't quite have that initially. If they are on the special immigration visa, they do get health insurance, so we were able to send some of the individuals who needed further health care or more immediate health care off-base to our local civilian partners. We made it work.
Initially, I was the Deputy Medical Commander, so I was responsible for setting up the clinic before the refugees arrived, but we only had one day's notice. I just thought, okay, we'll designate this spot and figure out what supplies that we need in the interim until other agencies can get involved. It's pretty impressive that we made it work, because I had never been involved in anything like that, and I honestly didn't have the time to grasp the magnitude of this mission. It was rewarding for me to be in charge of that — to ensure that the refugees were getting the care that they needed. They were so grateful. We partnered very closely with our civilian counterparts. I helped build that relationship with them and now I currently work for one of them on the civilian side.
GD: We reached out to a few student veterans for Veterans Day to ask them what they wanted other people to know about people serving in the military. Some mentioned wanting people to know that not everyone in the military is conservative or shares the same political beliefs. Do you feel that's a common misperception?
JL: That's definitely true. I joined for no other reason than wanting to help. Wars will most likely continue to happen. They've been happening since the beginning of time. I'll be there for you as a nurse regardless of what your political affiliation is because it's irrelevant.
One of the benefits of being in the military is that you get to experience other cultures in a way that ordinary people just do not. I've enjoyed the hospitality and warmth of people in every country that I've gone to in support of the military. The opportunity to travel and engage in meaningful dialogue with locals has truly been the best part for me.  I like to learn, obviously, this is my third degree at UCSF.
GD: How long will you have to serve in the Air Force?
JL: I've been in for 15 years; you can retire at 20. If I can still contribute something of value at that point, then I'll stay in, and if I can't, then I'll be happy to retire knowing that I've contributed my share.
GD: I think a lot of people may wonder how they can help the refugees. What's the best way?
JL: If they want to help, I suggest donating to the Red Cross. They have been a huge presence at the camp. In the beginning, people were donating to local hospitals, and then the hospitals were then getting in touch with us, but the logistics can get overwhelming very quickly.
---
The New York Times reported in December that the McGuire Joint Base camp, which has come to be known as "Liberty Village," was the only location still accepting new Afghan arrivals, and that "as many as four planeloads" of Afghan refugees continued to arrive in New Jersey every week from temporary safe havens.
The UCSF Doctor of Nursing Program is delivered almost entirely online, which gives Lt Col Leone the option to continue the program from anywhere. She has some family in New Jersey and says she may stay put for a while. Clearly her skills, compassion, and energy will be needed at Liberty Village for some time to come.